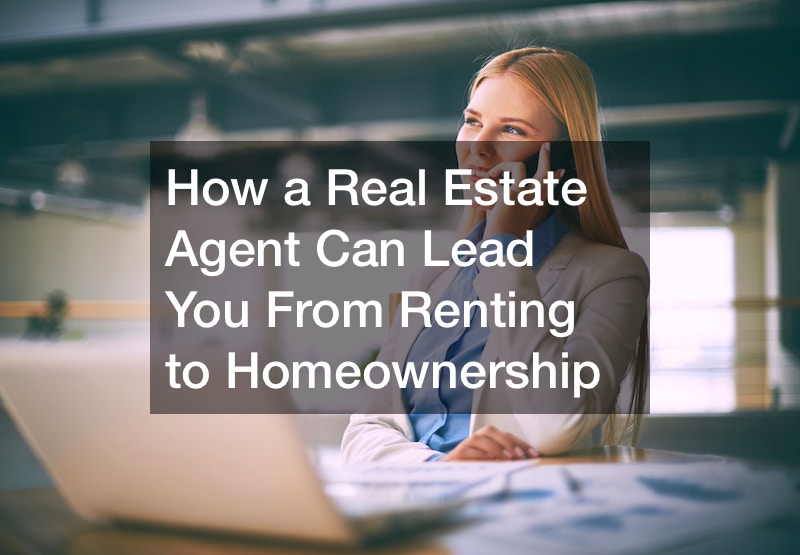 Home
How a Real Estate Agent Can Lead You From Renting to Homeownership
Shifting from the realm of leasing to owning your own home is no small feat—it's a major life change. This exciting journey often comes with its share of bumps and twists. Having all the necessary information to navigate this transition smoothly is crucial. You're not just buying a house but investing in your future. So, let's ensure you're prepared for this thrilling venture from renting to homeownership.
How to Find a Real Estate Agent
The shift from renting to homeownership is like reaching an important life goal. This process can be filled with complexities and challenges that could overwhelm you. This is where the help of seasoned real estate agents comes into play. They're experienced navigators in the often-confusing world of property buying who can guide you through every step. With their knowledge on your side, they take care of those tricky details – making sure this big transition runs smoothly for you.
It's about locating a space to build memories and dreams, lay down roots, and feel secure.
Think of them as pathfinders in the world of real estate – using knowledge accumulated over the years to make sure every step taken leads closer to home. Start by asking friends or family if they have any agents they'd recommend. Word-of-mouth recommendations can sometimes beat online reviews. Dig into their credentials, too. Look at their track record and specialties – are they good at selling homes in your area? Or do they excel in helping first-time buyers? Set up interviews so you get a feel for them in person. Ask many questions about how they work their strategies, and check out their social media marketing for real estate.
How to Choose the Right Agent
Finding the perfect realtor who can navigate you from renting to homeownership is vital to your path toward owning a house. You need someone knowledgeable by your side who understands this journey and helps ensure that each step is in the right direction. Don't forget to scout out reviews and testimonies online. Visit open houses in your desired neighborhood. This is your golden ticket to mingle with real estate pros face-to-face.
You get a feel for their knowledge about the local housing market and how it's faring, which can be invaluable in your house hunt. Don't rush into things; interview several agents before making any decisions. Choose an agent who you can trust with your finances and major choices. They'll be the ones to help guide you in navigating these important decisions. Eyeing up commercial spaces? Well, then, don't skimp on the experts. Your best bet is enlisting an ace who is in a group of commercial real estate brokers. They'll guide you through every twist and turn of this intricate field.
Consider Your Wants vs Your Needs
When transitioning from renting to homeownership, it's essential to distinguish between your wants and needs. A manufactured home realtor can help you navigate this process effectively. Getting clear on your must-haves is vital before you even start looking at homes. Think about what your family needs in a home. This isn't just about the number ofbedrooms or bathrooms, but also factors like proximity to work or school. When hunting for that perfect house, ensure necessities are covered first – safety and accessibility. Once these foundational elements are checked off, you can focus on those added extras that would be nice to have. Like an extra bedroom for guests or a backyard pool for summer fun! This way, you're making smart choices based on what truly matters to your family instead of being swayed by flashy features that may not add value in the long run.
Look at Less-Traditional Options
Switching from renting to homeownership is a big leap. But don't forget, there are unconventional paths that could be surprisingly beneficial. It's crucial not to limit yourself by only considering the traditional routes. For example, consider lot clearing – buying raw land and preparing it for building. You get control over everything from location and layout to design details. You can create something custom rather than fitting into someone else's vision. This option lets you select a location that suits your lifestyle and preferences. Whether you want to live in a rural area, closer to the city, or in a specific neighborhood, lot clearing allows you to choose your ideal location.
You're in control, and that means making decisions on every little detail – the layout of each room, selecting materials that align with your vision, everything down to door knobs. Get strategic with your spending while crafting your dream space. Going green is about doing good for our planet and adding value to your property. Think energy-smart building methods and eco-friendly landscaping. Imagine solar panels powering your home or native plants in the garden that require less water – they're small steps but make a huge difference. Not only do these features help save resources, but they could also cut down on utility bills! Isn't that worth considering when planning out your dream house?
Home Building Can Be Very Affordable
Contrary to common misconceptions, home building can be surprisingly affordable as you transition from renting to homeownership. This is especially true when working with a custom home builder. With a custom-built home, you're the boss of your budget. You get to call the shots on everything from materials and design choices to added features, all based on what you can afford. This way, you can dodge those extra costs that might sneak up when buying a pre-made house. You can choose materials, designs, and features that align with your financial constraints while avoiding unnecessary expenses.
Modern home construction techniques emphasize energy efficiency, which can result in long-term savings on utility bills.
These aren't just eco-friendly and great ways to cut costs over time. Think solar panels or efficient insulation—these might be pricier upfront but will save you loads in utility bills down the line. With an existing home, renovations and repairs can quickly add up. When you build a new home, you start with a clean slate, reducing the need for immediate upgrades and repairs. When constructing a home, start with essential features – strong foundations and smart layouts. Consider environmentally friendly choices, too, because they can score big savings in the long run. Green options might cost a bit extra upfront, but remember, these could qualify for rebates or tax cuts down the line.
Understand Your Loan Options
As you make the transition from renting to homeownership, understanding your loan options is a critical step in achieving your goal. One financing avenue to consider is a personal loan. Personal loans offer a flexible way to secure funds for a down payment or other homeownership-related expenses. Unlike traditional mortgages, personal loans do not require the same level of collateral, giving you more financial freedom. A personal loan can provide swift access to funds if you're eager to enter the housing market or seize a favorable opportunity.
Borrowing a personal loan allows you to meet the initial financial requirements for homeownership without depleting your existing assets. Personal loans are instrumental in improving your credit profile when managed responsibly. Timely repayments on a personal loan can positively impact your credit score. It's essential to keep up with timely repayments on personal loans and other debts.
Learn About Mortgages
Don't just jump into the first loan you see when going from renting to homeownership. Consider traditional mortgages as well because they might offer lower interest rates. It's all about picking what works best for you in the long run. You're signing up for a long-term financial partnership with your lender, so you must get it right. A mortgage is a loan intentionally designed to help you purchase a home. Instead of dropping heaps of cash all at once, you get to spread out payments over the years. This flexible payback system makes homeownership not just some far-off dream but an attainable reality for many people. Mortgages come with various interest rate options. You will find fixed-rate and adjustable-rate mortgage options.
Mortgage loans aren't a one-size-fits-all deal; they come in various shapes and sizes, typically stretching from 15 to 30 years. On the flip side, a shorter term may mean bigger monthly payments but less overall cost. Mortgages require a down payment, a percentage of the home's purchase price. Learning about down payment requirements and strategies to save for one is crucial. Be aware of the distinction between mortgages and title loans. A title loan involves using your vehicle's title as collateral for a short-term loan. Understanding the differences can prevent confusion and financial missteps.
Never Skip the Home Inspection
When transitioning from renting to homeownership, one critical step you should take is the home inspection. They are trained to spot stuff that we might just breeze past during an average walk-through of the property. Things that could become big problems later on if left unchecked. Do yourself a favor, and don't skip the home inspection part when buying your first pad! We're talking about potential structural problems like shaky foundations or warped walls. Or how about electrical hiccups that may leave you in the dark at inconvenient times? You must dig deeper to discover these troubles lurking under the surface. This is why getting an expert home inspection before buying is crucial—it's all about making informed decisions.
If the inspection uncovers significant issues, you can use this information as leverage during negotiations with the seller. You may be able to negotiate for repairs, a reduction in the purchase price, or credits to cover the cost of needed fixes. Having a home inspection isn't just about checking the basics; it's also about delving into areas you might not think of, like inspecting for termites. Termites can sneak up on you and cause massive damage before you even know they're there! This is why a termite extermination is integral to any thorough home check-up.
Learn From Your Experience
Stepping from renting to homeownership, especially when eyeing a vacation home, can feel like jumping into the deep end. This process isn't just about buying a second property. Owning a vacation home often involves managing two properties. With a vacation home, you're not just investing in another property; it's like enrolling in an advanced course on financial planning and property management. It teaches you how to manage budgets, anticipate expenses, and handle properties efficiently. The vacation home market may differ significantly from the primary residential market. Understanding the ebb and flow of seasons is a must if you want to play it smart in the vacation home market. Owning a vacation home isn't just about lounging on the beach. But here's something else to consider: taxes. Yes, owning that sweet beach house or mountain cabin has tax implications, too.
Don't Be Afraid to Get Legal Support
When transitioning from renting to homeownership, one aspect you shouldn't hesitate to consider is seeking legal support. Buying a house isn't as simple as signing a check, especially when you're looking to invest overseas. All sorts of legal mumbo-jumbo comes into play. You'll have stacks of documents that might look like they're written in another language. Plus, each country has its own rules and regulations around property deals. It's smart to get help from someone who knows their stuff – think real estate attorneys with experience in international law. They have the know-how to handle these complex matters so your interests stay protected throughout the deal-making process.
A Chinese real estate attorney has the expertise to navigate these intricacies, ensuring your interests are protected. So, are you considering buying property in China but not from around there? A Chinese real estate attorney is your go-to guide here. They've got the know-how to handle all those tricky bits like visa rules, dealing with different currencies, and sorting out taxes.
This isn't just about finding a house—it's about turning it into your perfect sanctuary without unnecessary stress or confusion. It's time for renters everywhere to unlock homeownership—let your trusted agent lead the way! With the right real estate agent on your team, you've got someone who knows the ropes. They'll guide you to that ideal house while making sense of all the real estate jargon and intricacies with total ease. Make your dream of homeownership a reality with the right agent.
You may also like