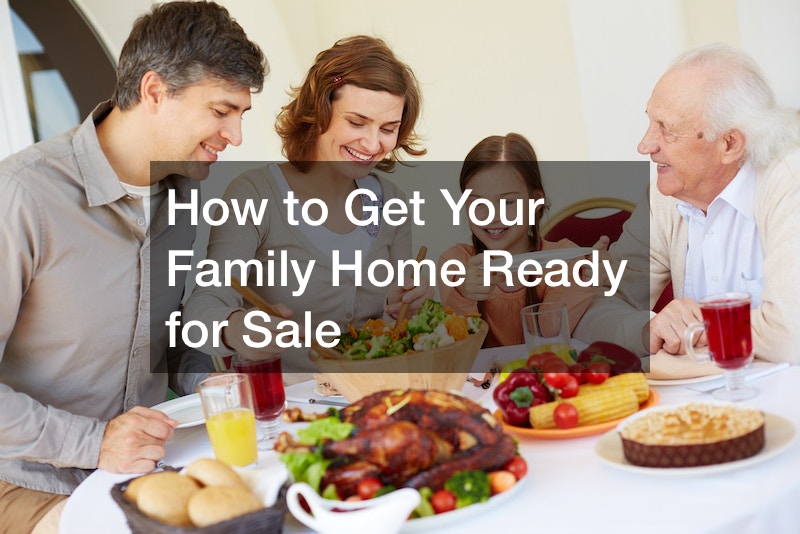 Home
How to Get Your Family Home Ready for Sale
Selling your family home, especially when in poor condition, is stressful and time-consuming. If you're planning to sell your property and don't know where to start, follow the steps below to get your family home ready.
Understand The Local Housing Market
Real estate prices are affected by a number of variables, including the state of economic conditions, interest rates, the availability of mortgage financing, and demand as well as supply. It's tough to generalize national property sales trends because of the inherent diversity of each market. Because of this, the speed with which your house sells and the price at which it sells will depend largely on the state of the local real estate market.
The interplay of supply and demand is just one of several factors at play in the housing sector. Economists generally agree that lower prices result from more abundance. When supply is low, and demand is high, prices rise. In this situation, you should explore the range of houses and apartments currently on the market. If there is a shortage of available homes, you must consider what sets yours apart from the competition so that you can sell faster.
Another consideration is whether the market is more favorable to sellers than to buyers. According to a recent report, low inventory and rising property prices indicate that we are currently in a seller's market. Buyers won't wait if they find a nice house for sale. Since they know supply is limited, they are more inclined to place competitive bids.
Staging Your Family Home
First impressions do matter when it comes to selling a family home. Buyers should be able to see themselves living in that house the moment they set foot inside. However, this might be difficult to accomplish if your home is disorganized, outdated, or not arranged appropriately. Homeowners often fail to recognize the value of staging their homes before listing them for sale.
Buyers' perceptions of space in a house might be negatively impacted by clutter and bad layout. The 'move-in ready' atmosphere cultivated by staging is an excellent selling point. Most home buyers want a house that doesn't require a lot of work before they can call it home. Potential buyers will be more interested in purchasing your house if they get the impression that they can move in right away.
As you get your family home ready for sale, you aim to sell faster and for a higher price. That is possible with staging, but it needs some extra time and money. Staging is done to reduce the amount of time a house is on the market and its perceived value. The average amount of time a staged home is on the market is 73% less than the average amount of time an unstaged home is. You will save time and money by cutting down on the time it takes to sell your house with strategic staging.
Effective staging doesn't have to break the bank. As stated in the NAR report, the median price of home staging is approximately $400. This cost is easily recovered when it leads to an increase in the home's overall value. When it comes to footing the bill, the responsibility often falls on either the sellers' agents or the sellers themselves.
Many sellers' agents willingly take on the task of staging and cover the associated costs, recognizing that it ultimately makes their job easier in the long run. On the other hand, some sellers opt to pay for staging themselves, either by hiring professional staging services or undertaking the necessary improvements independently.
Tasks for Sellers
To ensure effective home staging, there are several recommended tasks that sellers should focus on. First and foremost is de-cluttering. The benefits of removing clutter cannot be overstated. By boxing up and storing items that are not needed on a day-to-day basis, including seasonal belongings, papers, and a majority of home decor, the space is opened up, making it appear more spacious and appealing to potential buyers.
Another essential staging task is de-personalizing the home. When confronted with pictures of the current owners, it can be challenging for buyers to envision themselves living in a space. The goal is to create a blank canvas, so family photos and other overtly personal items, such as toothbrushes on bathroom counters, should be stowed away.
Deep cleaning service is also crucial. Just as one would thoroughly clean a newly acquired home, the same level of cleanliness should be maintained before listing a property on the market. Cleaning a family home plays a vital role in staging, as it goes hand-in-hand with the objective of making a positive first impression. If time is a constraint, investing a few hundred dollars in a professional cleaning service is well worth it.
Essential Repairs
In addition to drain cleaning services, small repairs should be addressed during the staging process. While significant repairs like those that require an electrical contractor can be negotiated after inspections, it is important to take care of minor fixes. Before presenting the home to potential buyers, do paint touch-ups, spackling, and caulking. These seemingly minor repairs can be glaringly obvious to buyers if left unattended.
When uncertain about the staging approach, opting for a neutral aesthetic is often a safe bet. While the aforementioned tasks significantly enhance most family homes for sale, those with bold colors or distinct decorating styles may benefit from going a step further. Neutralizing the space for buyers involves painting over walls in white, gray, or other standard neutral shades to eliminate garish colors.
Swapping out bright carpets for neutral options like taupe or beige is also recommended. Additionally, renting a storage unit to house huge or excess pieces of furniture can substantially impact the speed and price at which a home sells, even though it incurs additional costs.
The amount of staging required depends on the current state of the family home and the state of the market. In a seller's market, where demand outweighs supply, there may be more leeway in appealing to buyers, and less emphasis is placed on proper staging. However, in a competitive buyer's market, where supply exceeds demand, staging becomes even more crucial. In such scenarios, any advantage that can be gained through effective staging is essential for attracting potential buyers and achieving a successful sale.
Essential Home Improvements
When preparing to sell your house, it's important to consider certain improvements that can increase its value and attract potential buyers. Decluttering and carpet cleaning services are not enough. Here are the highly recommended family home improvements that can help you achieve a higher price at closing:
Painting: Repainting your home is a cost-effective improvement with a high return on investment. Opt for neutral colors that appeal to a wide range of buyers. Hiring a masonry company or professional painter can cost around $2,000-$4,000 for a 2,500-square-foot house, but you can also save money by doing it yourself.
Landscaping: Enhancing your yard's appearance is crucial because it creates a positive first impression. Remove dead plants, trim overgrown foliage, re-sod or plant grass seed, and add fresh mulch or straw to garden beds. Professional
landscapers can charge you between $500 and $3,000, but you can save by doing the work yourself.
Flooring: Consider replacing the carpet or repairing damaged flooring. Fauxwood or hardwood floors are preferred over carpeting, but new carpeting is still attractive to buyers if that's not feasible. A neutral color scheme works best. Professional flooring installation can range from $10 to $30 per square foot, while carpeting costs around $8-$12 per square foot.
Bathroom update: Updating your bathroom can provide a significant return on investment, especially if you go for modern and cohesive designs. Consider new countertops, tiling, frameless glass doors, cabinets, and fixtures. A mid-range bathroom remodeling typically costs between $3,000 and $12,000. As you update bathroom fixtures, replace the outdated faucets, showerheads, towel racks, and other bathroom fixtures.
Update lighting fixtures: Replace outdated lighting fixtures throughout the house to improve its appearance. Ensure consistency in colors with other hardware in your home. Light fixtures can range from a few hundred to thousands of dollars, but affordable options can be found at the local wholesale stores.
Kitchen upgrade: Enhancing your kitchen can significantly attract potential buyers. Consider refacing cabinets, upgrading countertops, appliances, and fixtures. The cost of a minor kitchen remodel ranges from $10,000 to $20,000, while a major remodel can exceed $50,000, depending on the extent of the work.
Exterior improvements: You will boost your home's curb appeal with professional exterior improvements. Power wash the exterior, repair or repaint siding, replace old windows and doors, and update the front entryway. Budgeting around $5,000 to $10,000 can be a starting point for these improvements.
Energy-efficient upgrades: Install energy-efficient windows, doors, and appliances to attract eco-conscious buyers. Adding insulation, upgrading to LED lighting, and installing a programmable thermostat are other energy-saving options. Costs will vary depending on the specific upgrades chosen, but they can provide long-term savings for homeowners.
Upgrade the HVAC system: If your heating, ventilation, and air conditioning (HVAC) system is old or inefficient, consider upgrading to a newer, energy-efficient model. This attracts buyers who value energy savings and comfort. Depending on the system's size and complexity, upgrading the HVAC unit needs between $5,000 and $10,000.
Create a home office or flexible space: With remote work on the rise, a dedicated home office or flexible space can be a selling point. Convert an underutilized area into a functional workspace with a desk, chair, and storage solutions. Costs depend on modifications and furnishings, but $2,000 should suffice.
Upgrade the garage: Installing storage systems, improving lighting, and adding a fresh coat of paint to the garage walls and floor. The cost of garage door installation is usually an average of $750.
Replace outdated plumbing fixtures: A reputable plumbing contractor will require around $500-$2,000 to upgrade old faucets, showerheads, and toilets. Choose water-saving fixtures that can appeal to environmentally conscious buyers.
Install new windows: The energy-efficient and double-paned windows improve insulation, soundproofing, and aesthetics. Window replacement typically costs $5,000 to $10,000 or more.
While focusing on cosmetic adjustments, remember to address any major repairs like blockages by contacting the air duct cleaning business. Buyers expect a well-maintained and safe home. Avoid costly projects that have purely personal appeal and may not attract potential buyers.
It's important to note that the returns on these investments can vary based on property and location. Home stagers generally follow the guideline that every $1 spent on improvements should yield an additional $1.50 at closing. For instance, bathroom remodels tend to increase sales prices by $1.71 for every $1 spent.
Find The Listing Agent
A listing agent, also known as a seller's agent, represents home sellers and works in their best interests. They sign an exclusive right-to-sell contract, allowing them to list the home in the multiple listings service. Seller's agency involves the agent acting as a fiduciary for the seller, promoting their best interests, and maintaining confidentiality.
To select the best listing agent, it's important to understand their responsibilities and ensure they meet your needs. The real estate industry has a significant discrepancy in performance, so choosing the right agent is crucial. Understanding what tasks agents should be doing for sellers increases the likelihood of a successful partnership.
Are you Ready to Move Out?
So, you've done some cleaning and fixing up, listed your family home, and sold it. Congratulations! The moment to begin relocation preparations has arrived. Check out the network of
local movers to get a dependable and honest moving business. You can rest easy knowing that you have professionals to assist you with the process of moving out. Do your research and consider reading reviews or getting recommendations to find the right company for your needs.
Once you've selected a moving company, communicate with them about your moving date and any specific requirements you may have. They will guide you through the moving process, including packing, loading, transportation, and unloading at your new location.
Preparing your house for sale involves a number of important stages, including becoming knowledgeable about the local property market, adopting effective staging techniques, making any necessary improvements, and selecting the ideal selling agent. Understanding the local market conditions and supply-demand dynamics is crucial for setting your home's right price and positioning.
Staging the home such that it is warm and welcoming increases its attractiveness to potential buyers. Houses that have recently been painted, landscaped, and updated with new fixtures tend to sell faster and for a higher price. The only surefire way to ensure a smooth relocation is to hire seasoned movers and engage with a reliable listing agent.
You may also like