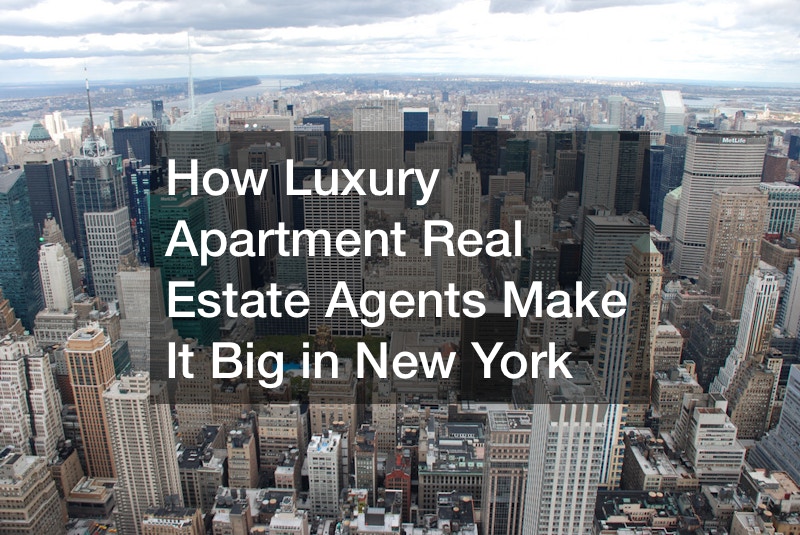 Home
How Luxury Apartment Real Estate Agents Make It Big in New York
New York is one of the world's most desirable places to live, and with that comes a high demand for luxury apartment real estate agents. These agents help clients find the perfect apartment in the city's heart, complete with all the amenities, stunning views, and top-notch service that one would expect from a luxury home.
But how do these agents make it big in such a competitive market? The answer lies in their networking skills, experience, and expertise. In this article, we'll look at what it takes to become successful luxury apartment real estate agents in New York City.
First, it's essential to understand that networking is key in the real estate industry. It's not enough to have a great listing; agents must build relationships with clients, other agents, and industry professionals. This means attending networking events, meeting potential clients at open houses, creating a social media presence, and more. Building a solid network of connections can help agents gain referrals and build their reputation as the go-to agent for luxurious apartments in the city. You need to start small as one of the luxury apartment real estate agents and sell several smaller units to gain trust and a name in the business; after putting in a few years exploring the market, you can move on and start to follow some of these top tips to earn higher commissions in the luxury market.
Here are some tips on how to proceed as a successful New York real estate agent so you can start to sell luxury apartments:
Getting to Know the NYC Real Estate Market
In the early stages of a luxury apartment real estate agent's career, it's essential to take advantage of any opportunity that comes your way. This means being willing to sell any apartment, from small studios to more modest dwellings. The goal is to establish a reputation as a hard-working agent dedicated to their clients, regardless of the listing size.
Once you've built a good foundation, it's time to focus on obtaining your license and building your knowledge of the market. Taking specialized courses and getting your real estate license will give you a competitive edge and increase your chances of landing higher-end listings.
Research is an essential part of being a luxury apartment real estate agent. Keeping up to date with market trends and understanding what is currently selling is vital to success. By consistently researching luxury apartments, you'll be able to identify which buildings and areas are in high demand and which apartments are selling for top dollar. One way to stay current is to attend real estate conferences, seminars, and other industry-related events. This will allow you to meet with other luxury apartment real estate agents, establish valuable contacts, and stay informed about the latest developments.
Prioritizing the Most Desirable Boroughs
In New York City, certain boroughs are more desirable than others regarding luxury apartments. Manhattan, for example, is the epicenter of high-end living, and many of the top real estate agents in the city prioritize this borough when it comes to finding listings for their clients.
But just because Manhattan is the most luxurious borough doesn't mean that other areas should be ignored. The best luxury apartment real estate agents know the up-and-coming areas of the city for high-end apartments before the area becomes a hot market. They have their pulse on the market trends and know when a particular borough, such as Brooklyn or Queens, is starting to attract more luxury buyers.
High-end apartments are often concentrated in specific areas of the city. For example, Central Park South has some of the most luxurious apartments that appeal to affluent buyers. Billionaires Row is another area in Manhattan that features some of the city's most expensive and exclusive residences.
The hottest areas of the city change often, and luxury apartment real estate agents should pay attention to these changes. Areas like Hudson Yards and Long Island City are starting to attract luxury buyers due to new developments, while areas like Greenwich Village and SoHo have been hot markets for years.
Finding the Best High-Rise Apartment Buildings
In addition to knowing the most desirable boroughs and neighborhoods, the best luxury apartment real estate agents also regularly research luxury condos in development. Luxury condos in development are changing rapidly, and the best luxury apartment real estate agents know about the best new opportunities for their clients.
By staying informed about luxury condos in development, real estate agents can alert their clients to upcoming listings and have insider information about the latest projects. The development process of luxury condos is often lengthy, and knowing about them beforehand gives agents an advantage in the market.
New developments also offer the opportunity to invest in pre-construction sales, which can be lucrative for agents and clients. By building a relationship with developers, agents can access exclusive pre-sales and choose the best units for their clients.
In addition, luxury condo developments often have extensive amenities and top-of-the-line finishes that attract high-end buyers. Luxury apartment real estate agents knowledgeable about new luxury condos can offer their clients an unparalleled living experience in the city's most desirable areas.
Marketing the Best Luxury Apartment Features
Marketing is a critical component of success in the luxury real estate market. The best luxury apartment real estate agents are masters of marketing and know how to highlight the unique features of each unit. They understand that luxury apartments have unique selling points that set them apart from other listings, and they know how to showcase those features to potential buyers.
Marketing luxury apartments require a multi-faceted approach, including top-quality photography, detailed descriptions, and virtual tours. But it also means highlighting the unique features of each unit, whether it's custom closet designs, spa-like bathrooms, or stunning city skyline views.
Luxury apartment real estate agents who are masters of marketing also know how to leverage social media platforms and digital marketing to reach potential clients. They use these tools to create targeted campaigns and reach audiences interested in luxury living.
In addition to highlighting unique features, the best luxury apartment real estate agents also know how to create a lifestyle narrative around a particular unit. They know how to tap into the aspirations of affluent buyers and develop a vision of what life could be like in a high-end apartment.
Including Information About Essential Amenities
Marketing a luxury apartment goes beyond highlighting the unit's unique features. The best luxury apartment real estate agents also need to sell the services and amenities that come with the building. High-end buyers are not just looking for a beautiful living space; they want a lifestyle with top-notch amenities and services.
Some examples of amenities and services that luxury apartment real estate agents should market include high rise window cleaning, in-apartment gym rooms, concierge services, private chefs, and spa treatments. These types of services can make all the difference in attracting high-end buyers.
Marketing services and amenities means understanding the desires and needs of affluent buyers. It's not enough to list a set of amenities; luxury apartment real estate agents need to be able to articulate the benefits of these services to potential buyers. For example, a private chef may be marketed as a way to enjoy gourmet meals without leaving the comfort of the apartment. In contrast, high-rise window cleaning may be sold as a way to enjoy unobstructed views of the city skyline.
In addition, marketing services and amenities can also help differentiate a particular building from its competitors. By highlighting the unique offerings of a building, luxury apartment real estate agents can attract buyers looking for a specific lifestyle and set of amenities.
Learning About Building Maintenance
Providing expert knowledge on services and maintenance is another crucial aspect of being a successful luxury apartment real estate agent. Buyers interested in high end apartments expect premium services and amenities and top-quality maintenance and repairs.
Luxury apartment real estate agents must deeply understand building maintenance and services, including residential elevators services information and other details that clients may want to know. Agents need to have this knowledge to answer clients' questions when considering a particular building or unit.
By having the answers to these questions, agents can instill confidence and trust in their clients, which is critical in the luxury real estate market. Clients want to feel secure in their investments, and having an agent knowledgeable on services and maintenance can help alleviate any potential concerns.
In addition, having expert knowledge of services and maintenance can also be helpful during negotiations. Agents showcasing their understanding of building operations and care can provide valuable insights during the talks and lower the unit's price.
Finding Luxury Buyers and Sellers
Finding high-end buyers is essential to success in luxury apartment real estate. While marketing and advertising can help attract leads, the best luxury apartment real estate agents understand that networking is critical to finding the right buyers.
One way to network with high-end buyers is by attending events and clubs where affluent individuals congregate. Golfing events, fundraisers, and exclusive clubs are all excellent opportunities to meet potential buyers and sellers. Attending these events and building relationships with individuals can lead to valuable connections and referrals, making all the difference in closing deals.
Another effective way to find high-end buyers is by working with luxury service providers such as private jets, yacht charters, art dealers, and other high-end vendors. By collaborating with these businesses, agents can access their network of high-end clientele and gain referrals for their real estate services.
Another approach is to partner with real estate companies specializing in luxury properties and work together on marketing or share potential leads. Luxury real estate companies have a larger pool of potential buyers that can be shared with partners resulting in more information for all parties involved.
Networking With Other Successful Realtors
Networking within the real estate industry can be an excellent asset for luxury apartment agents. Partnering with other local realtor experts can expand your network of potential buyers and increase your chances of closing a deal.
One way to work with other realtors is through a Multiple Listing Service (MLS). This is where agents can pool their listings and clients to help match buyers with suitable properties. MLS systems often include a range of information about properties, such as property details and the selling agent's name and contact information.
Another approach is to work with other local agents to co-list high-end properties. Sharing the listing of high-end condominiums can help to expand the scope of the search and increase exposure for the property. By sharing potential leads and cooperating with other agents, luxury apartment real estate agents can provide more value to their clients and attract more affluent buyers.
Agents also form local collaborations with other agents and real estate companies to pool consumer information. Agents can benefit from creating a solid network of real estate professionals with specialized expertise from different local market areas. They know the unique local market niches and can offer valuable advice and intelligence on the market's movements, which can be used to improve the search for the perfect property.
Keeping Up With Changes in Property Law
The best luxury apartment real estate agents know that keeping up with changes in real estate law and policy is essential to success in the industry. Policies and laws surrounding the buying and selling expensive properties are complex and constantly changing, requiring agents to stay up-to-date with the latest legislation and regulations.
Expert knowledge of real estate policy means that agents can provide their clients with accurate advice on zoning laws, property taxes, and other legal issues. Clients rely on their agents to guide them through the complex and often confusing landscape of real estate law, and having a thorough understanding of the policies and laws involved can help to instill trust and confidence in clients.
In addition, being updated on policies and laws can help agents to avoid potential legal pitfalls that could hinder the sale of a property. By knowing the legal implications of various transactions, agents can identify potential issues and recommend strategies to avoid them.
Furthermore, having expert knowledge of real estate policy can also help agents to negotiate better deals for their clients. This allows agents to fully understand complex situations and legal issues and provide appropriate advice that could lead to a better negotiation outcome.
Making Connections With Real Estate Lawyers
A solid network of professional contacts is essential for luxury apartment real estate agents. Maintaining good relationships with a real estate law firm is particularly important, as the law firm can provide agents with invaluable advice and guidance on complex legal issues and transactions.
Real estate law firms can provide services to luxury apartment agents, including assistance with contract negotiations, due diligence, and compliance with regulations. By building a solid relationship with a law firm, agents have access to a wealth of legal knowledge and expertise, which can help to streamline transactions and avoid potential legal issues.
One way to maintain a good relationship with a real estate law firm is by staying in touch with them regularly. Agents can contact law firms periodically to check in and discuss any relevant legal issues or upcoming transactions. Building a personal relationship with the lawyers can foster a sense of trust and collaboration.
Another approach is to refer clients to trusted law firms for legal advice. By consistently referring clients to the same law firm, agents can build a stronger relationship with the lawyers there. Additionally, by directing clients to the law firm for legal advice, agents can provide a more comprehensive service to their clients and ensure that they are making informed decisions.
Becoming a successful luxury apartment real estate agent requires a combination of skills, knowledge, and relationships. By mastering marketing techniques, keeping up-to-date with real estate policies and laws, finding high-end buyers, understanding services and maintenance, and building good relationships with other professionals in the industry, agents can provide the best possible service to their clients. With hard work, perseverance, and dedication to building their network, anyone passionate about luxury real estate can become a successful luxury apartment real estate agent.
You may also like