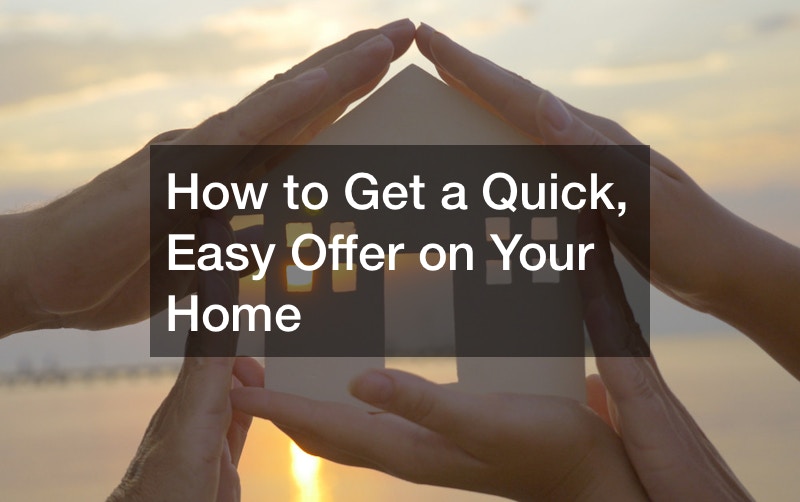 Home
How to Get a Quick, Easy Offer on Your Home
When you're selling your home, the goal is to get an easy offer as quickly as possible, so you can move on to the next chapter in your life such as downsizing or moving into your next dream home. No one wants their home to sit on the market for too long. Otherwise, you may become discouraged and wonder, "Will I ever sell my home?' While there's no guarantee that your house will sell anytime soon, there are some things you can do to increase the chances of getting an easy offer within a reasonable timeframe. Although these take time, effort, and some planning, you'll be glad you put in the work to make your home attractive to buyers when you hand over the keys and sign over the property to its new owners.
Clean House
Before you're ready for that easy offer to come floating into your inbox or your realtor's inbox, you should clean house – literally. A good scrubbing from the inside of the house to the exterior of the home can increase the curb appeal with minimal extra financial investment into the property. When people drive past a house that's visibly dirty on the outside, it sends the message that the owners must not take good care of it. Whether this judgment is fair or not, it's simply the truth. Humans judge books by their covers and houses by the level of grime that has built up on them. It's a simple fact of life.
Making your house sparkle with tidiness may be an obvious suggestion, but you'd be surprised at the number of houses that go on the market with little to no cleaning before potential buyers begin touring the premises. For folks who are trying to rush into selling the house as quickly as possible, little details like this can slip through the cracks. If you're in a hurry to sell your house, you'll especially want to spruce it up with some deep cleaning.
If you skip this step, you might end up waiting longer than you'd like for the heaps of offers that you're picturing in your mind. Underneath dirt and dust, your home may be an absolute catch for whoever buys it. Still, they won't know that until you show them by taking out your cleaning supplies and getting to work. For the exterior, renting a power washer can do wonders to take built-up dirt and stains off of the house.
If you have a light-colored house, it's especially important to make it clean before you attempt to take photos for the showing and listing on real estate websites. No matter what your house looks like, though, cleaning it will only help you put your best foot forward and give you the best chance of selling it quickly. Similarly to how you probably wouldn't get hired if you had a headshot taken for an acting gig after not showering for a week, no one's going to "hire" your house for the role of their dream home if it's covered in layers of muck.
Remove Clutter
When you're looking to buy a house, you'd probably choose to buy one with a neat, decluttered appearance over one that has a bunch of random items in the yard. While items like children's old tricycles can be sentimental or difficult to find the time to remove, they don't do anything for the curb appeal of your home. With a lot of clutter in the yard, you have a few options for how you can deal with it. The choice of which method you use depends on how attached you are to the items and how much they dominate your property based on the volume of objects.
You can call in a cleaning crew and have them handle the job for you. You can also haul all the clutter away to a storage unit and sort through it after you've finished going through the headache of moving. If the clutter in your yard and home is truly useless junk that you'd rather not take with you into your next season of life, you can always throw it away or donate it. If you have to rent a construction dumpster, consider it an investment in your next home since decluttering and removing unwanted debris can increase the likelihood of getting an easy offer on your house straight away.
Consider Septic
While it's not a pleasant thing to think about, you'll want to make sure that your septic system is in top shape before you hand over the house to the next set of owners. From scheduling an inspection to having professionals perform septic pumping, you'll want your plumbing and septic systems to be in the best condition possible before you sell your home. It will instill trust in the buyers that your asking price is fair because the house doesn't require major repairs to the septic system. It will also show that you maintain your home and take good care of every aspect of it–even the parts of home maintenance that are typically gross and unpleasant. You'll also want to remove old appliances like a busted heating oil tank before the house changes hands. This will give the new owners a positive impression of you and the home.
While potential buyers will enjoy thoughtfully curated throw pillows and the most ambient lighting inside your home, they'll be all the more impressed if you go the extra mile to ensure that your home is as functional as it is fashionable. An attractive home only gets so far on the market. To be truly competitive and score that easy offer you've been hoping to receive, you'll need a home that's move-in ready and able to perform all of the duties that a house needs to do.
Remember the Exterior
As you're selling your home, you might find yourself getting caught up on all the little touches that make the inside of your home easy for a potential buyer to picture their family living in that humble abode. What you might not consider is how important it is to ensure that the exterior of the home, driveway, and landscaping of the yard are as well maintained and beautiful as the inside of the home. If you're not skilled at paving the driveway or landscaping, you can call in the professionals like asphalt driveway companies and a mulch blowing service.
You'll also want to make a plan for how you'll change the locks for the new owners by contacting locksmith services. They may prefer to do any or all of the above tasks themselves, but going the extra mile and compiling a list of these resources for those who want to do it on their own can go a long way in securing the easy offer you desire. While you're at it, you can research the best window manufacturers to pass along to the new owners if they want to modify the windows. In the process of improving the exterior, you shouldn't forget about the deck with its under deck drain systems. You may want to outsource some tasks if they require heavy duty manufacturing machinery.
Decorate
As cheesy as it sounds, a well-decorated home will make people feel so at home that they won't be able to help but put in an easy offer when they see the home. If you cultivate a warm, cozy environment in your home, your potential buyers will sense that you take good care of your home and poured a lot of love into it while you were living there. That kind of energy will entice potential buyers to go for it even if they're a little bit iffy about whether they want to buy your home.
No one wants to buy a home that feels cold and impersonal. As you're decorating, you should consider what types of styles might appeal to a broader audience. If you have decorations that are too niche, you may scare away potential buyers who aren't interested in that home decor. Even though the home decor may not stay, it'll leave an impression on those touring the house that may not be the best if the decorations are too particular for them. If you have an interior design strategy that follows the latest trends with a personal touch, that may be your best option.
If you're not sure how to decorate your home to attract an easy offer, you may want to call in a professional interior designer to help. Alternatively, you can scour social media and see what real estate agents do to decorate the homes they're showing. You can also contact your real estate agent to see how they would recommend staging your home. If your real estate agent has enough experience, they may already have an idea of what staging choices would make your home the most likely one to sell quickly and easily.
If you have a high asking price or high hopes for what you'll make off of your home, investing in decor that attracts a certain caliber of home buyers is a good idea. If you choose cheap decorations from the dollar store, it can cheapen the look of your home. At the same time, you can use some cheap, generic decor items to lower your budget if you know how to arrange them and modify them to look expensive. A decent interior design scheme can also make you feel confident as you're showing and selling your home. Instead of walking around with a level of shame at your uncoordinated decor, you'll feel proud to show people the work of art that you've created by adding color and style elements to your home.
Manage Your Expectations
One of the last things you want to do as a home seller may be to lower your asking price. After all, you know what your home is worth and you don't want a penny less in the sale of your property. While that can be true, it can also be true that the fastest way to rake in that wonderful easy offer on your home is by taking the asking price down to market value or lower. If you're not getting any bites at a high price point, you may need to make it irresistibly tantalizing to potential future buyers by taking the price down below their expectations. If your buyer feels that they are getting a great deal on the house, they'll be more likely to jump on it.
This can also create competition. It's not unusual in this day and age for people to put in offers that are well above the asking price because they fear that they won't get the house if they go with the bare minimum. You may be pleasantly surprised at how high the bidding war can go if you start it low. When people feel vested in winning the battle for your home, they may be more inclined to put in an offer than they would if they felt like your house was too expensive.
Good houses sit on the market every day because the owners are too stubborn to lower the price. If selling your house is the goal, you'll be better off lowering the price. This way, you may make less money than you expected, but you'll still be selling the house and making money off of it with an easy offer. When the house is sitting on the market, you won't make any money at all.
In short, there's no need to hire a construction crew to gut the house and rebuild it from scratch to win over potential buyers. Oftentimes, you don't even have to do anything too outrageous to get someone over the edge from being a little interested in the home to becoming ready to buy the house from you. From sprucing up the place to adding some finishing touches that will make your house stand out in a sea of other homes on the market, there are a lot of minor adjustments you can make to your home that will have major results if you play your cards right.
You may also like